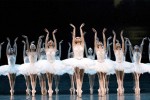 The Cuban National Ballet Company is scheduled to hold a special gala on Saturday, May 18, to pay homage to the Cuban Five.
The gala, which is dedicated to the five Cubans serving long and unfair sentences in the US for fighting terrorism against Cuba and the United States, is set for Havana's Mella Theater and will feature pieces with scores by outstanding Cuban musicians, and pieces of historical and social important, as well as the emblematic ballet La Avanzada.
The performance also includes another two pieces by Alonso: Elegy to a Young Man, dedicated to Italian Fabio di Celmo, who was killed by a bomb planted by anti-Cuban terrorists in a Havana hotel in 1997, and Al Encontrarse (Encounter), inspired by meeting of renowned Cuban-Argentinean guerrilla Ernesto Che Guevara and his widow Aleida March.
Also part of the performance is the ballet A Lullaby to Wake up by Chilean Hilda Riveros, and the pas de Deux Spartacus, plus the Flames of Paris pas de deux, inspired by the French Revolution.
Premier and principal dancers Anette Delgado, Yanela Piñera, Dani Hernández, Ernesto Álvarez, José Losada, Ernesto Díaz, Leandro Pérez, Verónica Corveas, Grettel Morejón, Camilo Ramos, Arián Molina, Alfredo Ibáñez, Víctor Estévez and Miguel Anaya, plus the company's corps de ballet will perform on the special gala on Saturday.