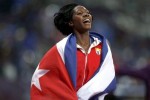 Cuba will take part in the 3rd stage of the Diamond League in the city of New York with three athletes, as confirmed by Daniel Osorio, technical coach of the Cuban track and field team Friday.
Olympic female pole vault jumper and runner-up Yarisley Silva is heading the Cuban trio, said Osorio to Radio Habana Cuba.
The other athletes will be Orlando Ortega (110 hurdle meters) and Omar Cisneros (400 hurdle meters).
The competition in New York will be the debut of the small Cuban team in the 2013 Diamond League, with 14 stages, the first in Doha, Qatar on May 10 and the second in Shanghai, China on May 18.
Osorio did not reveal why male triple jumper Ernesto Reve will be absent after being announced some days ago to compete.
Yarelis Silva, Pan American Champion in Guadalajara, Mexico in 2011, is now heading the world ranking in her speciality, with 4.85 meters, ahead of US Jennifer Suhr, the owner of the second best record in the season, with 4.80.
Ortega, the second in the world ranking in his event with 13.17 seconds, will try to improve his bronze medal last year, and will have the absence of most of the best athletes in the ranking in this competition.
Cisneros will have a tough competition because of the presence of US stars Johnny Dutch and Michael Tinsley and Puerto Rican Javier Culson, the owners of the three best records in the 2013 season.
Cuban athletes are getting ready for the Outdoor World Championship in Moscow in August.