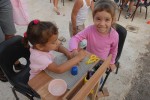 Cuba, China and Russia rejected today a statement by the US State Department, in which it accuses those three countries of being involved in human traffic.
The report, presented by state Secretary John Kerry, mentioned 19 States that are guilty of that supposed crime with Russia, China and Uzbekistan as leaders.
As an answer to the accusation, Director of the Cuban Foreign Ministry Department for the United States Josefina Vidal asserted that her country has been recognized throughout the world for its exemplary performance in protecting children, youths and women.
She said Havana is demanding to put an end to that disgraceful accusation and stated that the US blockade against that Caribbean country is the main cause of damage to children, youths and women, and also to all the people.
Vidal said that the United States lacks moral to accuse Cuba, because it admits to be a country of origin, transit, and destination to US men, women and children and also from other countries, subject to hard labor, slavery and sex trafficking.
In China, Foreign Ministry spokeswoman Hua Chunyin said that the United States should adopt an objective and impartial vision regarding the efforts that the Asian country makes to fight human trafficking.
"We have improved our legislation continually, ensured that the law is upheld, as well as tightened the judicial measures, and cooperation with all countries is permanent, especially with the neighboring nations," said Hua.
Russian Foreign Ministry Commissioner for Human Rights Konstantin Dolgov asserted that his country would answer properly the US State Department annual report, which he called outrageous.
Washington's black list empowers its Government to apply punishments, as denying finance for cultural and academic exchange, or vetoing that the International Monetary Fund grants financial aid, measures that could come into force on October 1 the current year.