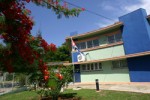 The Placental Histotherapy Center is a Cuban health institution dedicated to the research and application of medicines and cosmetics extracted from human placenta that are under design and programming of a virtual pharmacy.
The objective of this work is to ensure the sale of medicines to foreign patients previously treated in the clinical service of the entity, through e-mails, and ensure the continuity of treatments, its director Dr. Ernesto Miyares Diaz told the press.
The proper use and control of the products is taken into account for the request and delivery of orders and a way for payment will be used to enable the safety of transactions for both parties, Miyares said.
The implementation of this pharmacy joins to the varied offer of services the institution gives, among them queries on dermatology, psychiatry and complementary examinations, the expert said during the 3rd International Placental Histotherapy Seminar that ends today, after three days session.