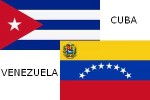 Cuba and Venezuela presented their fourth additional protocol to be attached to the 2012 Economic Complementariness Accord, which further expands bilateral trade between Caracas and Havana.
The action took place in the context of the Latin American Integration Association (ALADI).
The protocol stipulates that Venezuela should lift all tariffs to Cuban products, an initiative that had already been adopted by the island in the previous third protocol, which got in force in 2009.
According to PL news agency, the document also includes provisions stipulating regulations aimed at protecting national productions and emerging industries, as well as sanitary measures and other issues relevant to livestock, agricultural and industrial development.
The meeting at the Latin American Integration Association, based in Montevideo, Uruguay was attended by Cuban ambassador Carmen Perez and her Venezuelan counterpart Julio Chirino.
The two diplomats affirmed their commitment to Latin American integration and expressed their willingness to keep expanding relations with the regional organization.