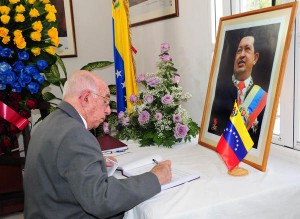 Cuban Vice President Jose Ramon Machado Ventura said here Wednesday that his country will keep the solidarity with the Venezuelan people to the maximum, after the decease of President Hugo Chavez.
"This is a very difficult moment for all of us, everyone of us, for the Venezuelan people and for all the Latin Americans," Machado Ventura said after he signed the condolence book for the death of Hugo Chavez in the Venezuelan Embassy in Havana.
Machado said the deed is very regrettable, especially for Cuba, because of the links that have existed between Cuba and Venezuela.
"Chavez was an adalid, an example, for what he fought, and for what he practiced. He fought and he gave an example," said the Cuban Vice President.
The government of Cuba decreed an official mourning for two days and one day of national mourning for the death of Hugo Chavez.
The Cuban people will pay homage to Hugo Chavez on Thursday at the Jose Marti Memorial in Havana, and in all the provincial capitals.