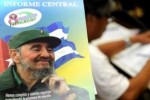 Delegates to the 8th Congress of the Committees for the Defense of the Revolution (CDR) will continue to discuss social and organizational issues today during a second working day.
At the opening session of the meeting, some 500 participants, including guests and delegates, discussed crime prevention and illegal activities within neighborhoods, the internal functioning of the organization, and a legislative project, among other matters.
Today, attendees will continue working in sub-committees until noon, after which they will go to a plenary session to discuss the challenges and general prospects for the CDR, the largest mass organization in the country.
According to press statements from the CDR national coordinator, Carlos Rafael Miranda, delegations invited from 11 nations are also attending the event.
The CDR was founded on September 28, 1960 on the initiative of Fidel Castro. It is a neighborhood organization, arranged by blocks, that stretches from local neighborhoods to the national level.
Prior to the forum, all committees island-wide, with a total membership of some eight million Cubans, participated in a process of assemblies where they discussed and analyzed work completed and proposed strengthened management.
According to organizers, the Congress will close on Sept. 28.