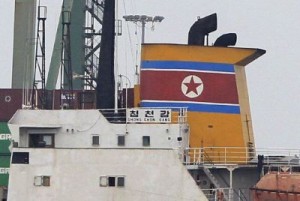 The Cuban Ministry of Foreign Relations issued a statement on Tuesday on the detention in Panama of a boat under North Korean Flag that departed Cuba with defensive and obsolete armament to be repaired and shipped back to the island.
The statement explains that Panamanian authorities informed about the detention of the Chong Chon Gang boat under the flag of the Democratic Republic of Korea at the Colon harbor, after the ship departed Cuba.
The Cuban Foreign Ministry reported that the boat set sail from a Cuban port in route to North Korea with a cargo mostly made up of 10 thousand tons of sugar. The boat also carried 240 metric tons of defensive and obsolete armament, two air rocket systems of the types Volga and Pechora, nine disassembled missiles, two Mig 21- Bis aircraft and 15 Mig engines. All the weapons were built last century and were meant to be repaired and returned to Cuba.
The agreements signed by Cuba in this field are backed with the necessity to maintain the island's defensive readiness to preserve national sovereignty, the statement reads.
The Republic of Cuba affirms its irrevocable commitment to peace, disarmament, including nuclear disarmament and the respect for international law, the statement concludes.