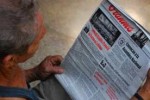 Cuban government announced some measures to keep order, discipline, and legality in the development of self-employment, a kind of non-state job fostered in the country since October 2010.Over the last three years, the number of people engaged in this form of employment has increased, from 157,000 to more than 442,000, confirming the validity of this option that creates jobs, and is a source of production and services for the population, states a note from the Executive Committee of the Council of Ministers published in Granma newspaper.
The daily remembers that the Official Gazette of the Republic published on Sept. 26 many regulations on self-employment, which require the granting of licenses in 18 additional activities and regulate the scope of the rest of them, to prevent indiscipline and illegalities.
In order to further clarify self-employed workers the provisions of these regulations, officials have been informing them individually the content of the activity they carry out, the text says.
Thus, the illegality of imported retailing goods or the resale of those acquired in the state business network have been ratified, the document states.
The newspaper indicates that the Executive Committee of the Council of Ministers established December 31 this year as a deadline for those who acting as Dressmaker or Tailor, and Producer Seller of home use articles, liquidate their inventories of the products of this kind before mentioned.
Cuban officials stated that these measures are necessary corrections for further ordering this form of management, combating impunity, enforcing the law, and protecting self-employed workers, which the vast majority complies with the established regulations.