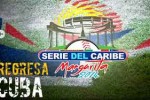 Cuba will return to the Caribbean Baseball Series next year, to be held in the Margarita Island, Venezuela, as announced by National Commissioner Higinio Velez Tuesday.
The information was given by Velez together with Juan Francisco Puello, Commissioner of the Caribbean Pro Baseball Association, in a press conference at the National Hotel Tuesday.
Cuba, host of the first tournament since it was created in 1949, won seven editions of the Caribbean Baseball Series before withdrawing in 1961.
"Cuba is coming under the big door. It comes by paying. We are not giving Cuba anything for free," said Puello, very happy for letting people know that Cuba is returning.
Puello said that his organization modified the sum of money that its regulations established so that Cuba and other countries may enter in the tournament.
Velez said that Cuba has no sponsors, but it is planned that the Cuban government sponsors the Cuban national team, and said that the return to the Caribbean Series is part of the change of strategy for the development of baseball in Cuba.
Cuba participated in the editions from 1949 until 1960, winning seven editions: Almendares (1949 and 1959); Habana (1952), Cienfuegos (1956 and 1960) and Marianao (1957 and 1958).
The Yaquis from Obregon, Mexico, are the winners of the last edition in February 2013.