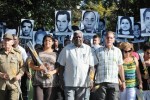 Cuban sports, as every year since 1976, mourned the victims of the heinous crime that occurred on this date, when a Cubana airplane exploded in flight, causing the death of 73 passengers and crew.
Aboard the plane travelled 17 young fencing athletes who had just made their mark, winning all the gold medals at the Central American and Caribbean games of the discipline.
This date is commemorated each year to honor floretists Virgen Felizola and Ines Luaces, Milagros Pelaez and Nancy Uranga, members of the national Cuban team.
Among the men there were sablists Ricardo Cabrera, Alberto Drake and Juan Duany, as well as floretists Leonardo Mackenzie and Jesus Mendez.
Also there were Jose Arencibia, Candido Muñoz, Enrique Figueredo, Julio Herrera, Nelson Fernandez, Carlos Leyva, Jose Fernandez and Ramon Infante.
In all, there were 24 casualties of that sports delegation which included two technicians Luis Morales and Jesús Gil, three trainers Ignacio Martinez, Santiago Hayes and Orlando Lopez and two officials of the Cuban Sports Institute, Demetrio Gonzalez and Manuel Permuy.
The crime whose perpetrators are still unpunished, dealt a severe blow on that sports discipline in Cuba that lost a complete generation of valuable athletes.
Cuban sports felt above all their absence in a season full of victories when it became the undisputed leader in Latin America after the Panamerican Games in Mexico, 1975, with a harvest of 134 medals (56 gold, 45 silver and 33 bronze).
Three years later, however, the fencing athletes of this island could win the regional competition in San Juan 1979, Puerto Rico.
Almost four decades after 1976 and present generations of Cuban athletes evoke their martyrs and claim for justice.