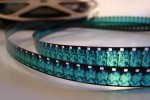 The 35th International Festival of New Latin American Cinema will be the first without its founder Alfredo Guevara, with the aim of defending the spirit of this Cuban film fest.
Ivan Giroud, who led the Festival from 1994 to 2010 and took to the office again in May, told Prensa Latina that defending the festival's identity is the only guarantee of its survival.
"The hardest part is making it look easy: building a Festival is a real work of a goldsmith, " said Giroud after his appointment in May.
He said then that festivals require a program that achieves a dialogue between the film and the viewer, and that meets the expectations of a cultivated public.
Founded in 1979, the festival emerged in order to recognize and publicize the region's cinema with values reaffirming the native cultural identity.
While film festivals spread in the region, the Havana's fest still stands out among the festival network, which is the main distribution and screening circuit of independent film.