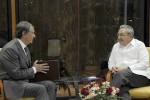 President Raul Castro met with the president of Rosneft Oil Company, Igor Sechin, who was leading a delegation from the Russian Federation on a working visit to the island, the local press reported today.
According to a note published by Granma newspaper, the two sides talked about a common wish to extend relations even further in sectors such as oil, health, tourism, energy, and training of technicians and specialists in the oil industry, areas in which there are extensive opportunities for collaboration.
Raul Castro and Sechin also exchanged views on the updating of the Cuban economic model, the process of regional integration, and the possibilities for future investment at the Mariel Special Development Zone located west of Havana.
The ambassador of the Russian Federation to Cuba, Mikhail L. Kamynin, and the chairman of INTER-RAO Management Board, Boris Kovalchuk, attended the meeting.
Cuban Vice President of the Council of Ministers Ricardo Cabrisas, Energy and Mining Minister Alfredo Lopez, and Acting Minister of Foreign Trade and Foreign Investment, Antonio Carricarte, were also present.