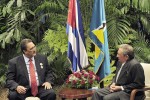 President Raul Castro met with Saint Lucia's Prime Minister Kenny Davis Anthony,  on an official visit to this country.
During the fraternal meeting held yesterday, the two officials discussed the state of cooperation ties, and exchanged on regional and international issues, the national television reported.
Anthony paid tribute to Cuba's national hero Jose Marti, placing a wreath at the monument erected at the Revolution Square, and later toured the Memorial that bears his name. The visitor's agenda, to be run until June 1, also includes a visit to the Center for Genetic Engineering and Biotechnology, from this capital's scientific resort.
Both Caribbean countries established diplomatic relations in 1979, and they currently maintain ties in several spheres.