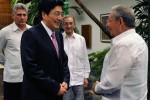 Cuban President Raul Castro, first secretary of the Central Committee of the Communist Party of Cuba, met with Guo Jinlong, member of the Politburo and secretary of the Communist Party of China in Beijing, who is on an official visit here.
During the meeting held yesterday, both leaders stressed the ties of brotherhood that unite the two parties, governments and peoples, and expressed satisfaction for the results of this visit that continues the fruitful exchanges between the two party organizations.
Cuban First Vice President of the Councils of State and Ministers, Miguel Diaz-Canel, and Head of International Relations Department of the Central Committee of the Party, Jose Ramon Balaguer, were also present.
Jinlong will attend today the opening of a photovoltaic plant, and the signing of agreements.