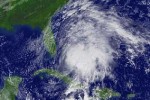 The Meteoro 2013 drill will be carried out in Cuba on May 18 and 19, to reduce the vulnerabilities this country is exposed in case of high intensity hurricanes and other extreme disasters.
According to a report published today by Granma newspaper, the initiative is aimed at strengthening capacities for facing those events.
Colonel Luis Angel Macareño, second head of the Civil Defense' General Staff, said this is to carry out concrete, not demonstrative actions, to reduce the risk in the community.
Another objective of the exercise, which includes the mass mobilization of the community in one of the two days, lies in the evaluation of the work by the civil defense agency in mitigating those vulnerabilities.
Hence, at the end, each working agency of the National Defense Council should develop an assessment of its development with proposals for the improvement of the disaster reduction process.
Other entities such as the State administration agencies, top directive boards, and units and institutions of the Armed Forces and the Ministry of Interior will also participate in the Meteoro 2013 exercise.