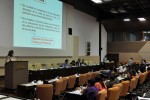 Cuba legislators tackle this Wednesday issues of interest for the population, as part of the activities prior to the second ordinary period of sessions of the Eighth Legislature of the Cuban People's Power National Assembly.
The draft Labor Code, which was subjected to massive popular consultation with the workers, will be discussed today for its approval.
Issues related to the performance of economy, the plan's guidelines for next year, the implementation of the State budget, and the 2014 economic goals, will be debated today and tomorrow.
The development of experiments in non-agricultural cooperatives, and other related with the updating of the Cuban socialist model will also discussed in the Commission on Economic Affairs.
The sale of materials for the construction and maintenance of houses, and subsidies and credits to carry out that activity will be the issues of great importance for the population, and in the sight of legislators.
For the current legislature, the island's Parliament approved the work in 10 permanent commissions.
Cuban legislators will meet in plenary session to deliberate about the reports the Ministry of Foreign Affairs and the General Comptrollers of the Republic will submit to them.
The second ordinary period of session of the People's Power National Assembly was called for Friday, Dec. 20.