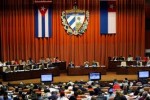 The National Candidature Commission is outlining Council of State nominations to be submitted to the Parliament in a constituent session on Sunday, February 24, the press is reporting today.
According to the Granma newspaper, the Commission, comprised of a cross-section of civil society (workers, women, students and farmers) is working toward the opening of the Eighth Legislature of the People's Power National Assembly.
On February 24, close to 90 percent of registered voters in Cuba, or 7,900,000 citizens elected some 612 deputies elected 17 days ago, and these in turn will select by secret ballot the body that will represent the Cuban State.
The parliamentarians will elect the president, who is head of State and Government, the first vice president, five vice presidents, the secretary, and 23 other members of the State Council, which represents the National Assembly between its two annual regular sessions.
On Sunday, deputies will also elect the president of the Parliament for the next five years, the duration of each Legislature.