Cuba, Nicaragua and Haiti Congratulate Correa on Election Victory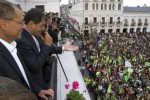 Cuba's President Raul Castro congratulated Rafael Correa for his Sunday election victory, with which he guarantees a new term as president of Ecuador, Cubadebate website posted today.
In a letter sent to Correa, the Cuban president reiterates "the will of the Cuban government and people to strengthen even further the fraternal ties between us," the report said.
Raul Castro recalls how other governments and leaders in the region, among which he quotes messages from presidents of Nicaragua, Daniel Ortega, and Haiti's Michel Martelly, joined to those greetings.
---
---
Make a comment
Escambray reserves the right to moderate comments which are disrespectful, offensive, vulgar, or that attempt against the dignity of either a person or a social group.
The mandatory fields are marked.