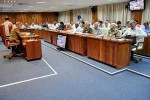 Cuba's Council of Ministers, headed by President Raul Castro, has adopted various measures and policies to implement the guidelines established at the 6th Congress of the Communist Party of Cuba.
The first of those provisions issued by Cuba's highest executive and administrative body is aimed at updating the national medicine program for the population.
Marino Murillo, Vice President of the Council of Ministers, stressed that the country is looking to achieve greater capacity and more stability at pharmacies and hospitals.
The new policy also proposes the inclusion of natural and traditional medicine in the basic pharmaceutical supply, with the Council ruling that a program created to develop so-called green medicine be brought up to date.
In regard to this issue, Murillo stressed that cooperatives and individual producers have much to offer in the production of medicinal plants, valuable in the fight against many diseases.
Reports from Cuba's nightly TV news program said that the Council also decided to build and repair additional senior citizen centers and nursing homes between 2013 and 2015, due to the increase in the aging population.
A third group of non-agricultural cooperatives, 73 associations in all, dedicated to food service, recreation, industry, construction, and transportation, was also approved by the Council.
The final data from the 2012 Population and Housing Census will be published shortly, it was also revealed.
A proposal to improve the Ministry of Construction was also approved in order to reduce a high percentage of budgeted positions, moving them to the business system for greater efficiency.
Raul Castro called on representatives from many state agencies to find solutions to respond to the needs of the population.