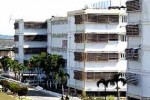 National and foreign journalists of accredited media in Cuba are touring today facilities of the penitentiary system of the island, where the government applies programs for the social reinsertion of the prisoners.
Reporters, photographers and cameramen visit establishments where men, women and youths who have access to medical attention, school and cultural instruction, as well as the possibility to do socially useful labor, for which they are paid.
The visit -something unusual throughout the world, according to local authorities- includes open and closed spaces, depending the kind of imprisonment. Cuban and foreign media will receive briefings on the initiatives introduced in benefit of the convict population of the Caribbean nation and will be allowed to talk with prisoners and their relatives visiting at the time of the visit, advanced sources of the Ministry of the Interior.
Among the programs applied in the prisons are those related to sports practice, another called Educate your Child to strengthen the links of the prisoners with their families and others of cultural expression and enjoyment of artistic performances. Regarding the voluntary access to study and work, official data says thousands of internees benefit from those programs.
In Cuba, about 27 thousand prisoners are in educational courses at different levels, while training is also available to become qualified workers through theorical courses or on-site learning. Since the triumph of the Revolution on January 1, 1959, the penal system has built new facilities which allowed to dismantle old and obsolete jails with the new more humane principles developed by penal science throughout the planet.
Authorities of the sector extol among the steps taken to improve penal legislation and codes based on precepts called "Minimal International Rules for the Treatment of Prisoners" approved in the First Congress on Crime Prevention and the Treatment of Delinquents of 1955, Geneva, Switzerland.