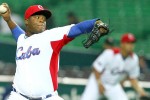 Cuban Baseball mourns the death of the pitcher Yadier Pedroso Gonzalez, who was part of the national team to the III World Classic, and died here victim of a traffic accident the night of March 16.
According to the information of the weekly Jit, from the Cuban Institute of Sports (INDER) the death was confirmed by Joan Molina, director of Sports in the Province of Artemisa, birth place of the pitcher, who was 26 years old.
The car in which he was travelling with two other people, who also died, crashed a freight truck in a place known as Manga Central, on the road leading to Artemisa.
Pedrosito, as he was called was considered one of the top pitchers in the current Cuban baseball due to his conditions as an athlete.
He participated in 8 national championships and scored 76 victories and 45 games lost.
At international level he was part of the Cuban team in 10 competitions and played in 26 matches, mainly as relief pitcher winning twice and with one defeat.