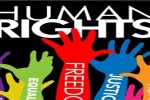 Cuba marks today Human Rights Day with panels and discussions on the work of the island in this matter and violations to these guarantees caused by the application of the U.S. blockade.
The Ministry of Foreign Affairs will host today a panel on human rights, while the Cuban Association of the United Nations will hold another one related to the fundamental rights of the children.
A world Twitter action, with the hashtag #DDHHCuba and #DerechosdeCuba, which, since yesterday from 14:00 local time (19:00 GMT) to 12:00 (17:00 GMT), cybernauts of the world starred in to express solidarity with Cuba and highlight its results in that sphere, joined these activities.
Another panels held at the Cuban Institute of Friendship with the Peoples will allude on how the economic, financial and commercial blockade imposed by the United States has violated fundamental guarantees in health.
Cuba exposes an extensive work in the sphere of human rights, and it is placed 59 among 187 countries in the 2013 Human Development Report of the United Nations.
According to that document, if the Non-Economic Human Development Index is applied, then this Caribbean country reaches 17, to be above all developing and many developed nations.
The date was established by the United Nations, because the Universal Declaration of Human Rights was proclaimed on Dec. 10, 1948.