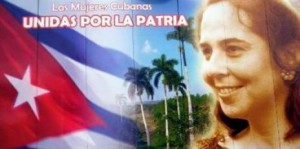 Women in the eastern city of Santiago de Cuba mark the 53rd anniversary of the Cuban Women's Federation at a site near the place where former Federation president and heroine Vilma Espin once told them that from that heroic piece of land Cuban, women would always stand firm in any front assigned by the Revolution.
Vilma Espin headed the women's organization since its setting up on August 23, 1960 till she died in 2007.
Santiago de Cuba was selected to host the national celebration given the good performance of Federation members in meeting all tasks and contributing to the local recovery from the damage inflicted by hurricane Sandy in 2012.
Federation general secretary in Santiago, Surina Acosta, told the Cuban news agency that the organization counts on over 390 thousand 300 members in the province and she stressed the contribution of Cuban women to social and economic activities.
As part of the celebration program, federation members have held exchanges with new and founding members, as well as meetings with women, who are currently implementing projects designed and encouraged by Vilma Espin, with internationalist women, collaborators in the field of health, journalists and others. The also participated in a cultural gala as over 20 of them were acknowledged with the August 23 Distinction.