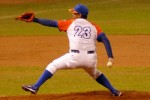 Cuba suffered its fourth loss (2-3) in as many games against the U.S. university team durin g the penultimate game of the bilateral match between the two squads. In a game played on Monday at the National Training Complex in Cary city in the U.S. state of North Carolina, Cubans showed an offensive improvement when compared to the three previous matches after producing eight hits.
Americans hit only three hits, all against Ismel Jimenez, who took the loss despite allowing only one earned run in four innings as reliever after coming to the rescue of starter Joel Suarez.
Suarez permitted two runs without hits in four innings of action, but lack of control was his "Achilles heel", when giving six walks and a dead ball to the U.S. batters.
The five-game friendly match concludes on Tuesday in a game that will be held at the Bulls Athletic Park, in the city of Durham, North Carolina, where Cuba's starting pitcher will be Vladimir Garcia, who will try to get at least one win in the series.