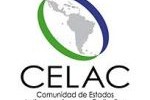 The extended Troika of the Community of Latin American and Caribbean States (CELAC), comprising Cuba, Chile, Costa Rica, and Haiti, will meet tomorrow in this capital, to discuss the work of the regional bloc.
According to the Ministry of Foreign Affairs of Cuba, a country in charge of the pro tempore president of the Community for 2013, the meeting will be led by host Minister of Foreign Affairs, Bruno Rodriguez, with the participation of his Chilean peer, Alfredo Moreno, Costa Rica's Enrique Castillo, and Haiti's Pierre-Richard Casimir.
The meeting will also review the working prospects during the Cuban presidency of the organization, which took office in late January this year in Santiago, Chile, during the first CELAC summit.
In that forum, the block formed by 33 independent nations of the region agreed to join to the Troika the country with the presidency of the Caribbean Community (CARICOM), currently in charge of Haiti.
CELAC includes in its agenda the promotion of the Latin American and Caribbean integration in political, economic, social and cultural spheres.
After Cuba assumed the presidency of the organization founded in December 2011, meetings were held to analyze priorities such as education, culture, and the environment.