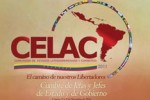 Cuba hosts today the 5th Meeting of National Coordinators of the Community of Latin American and Caribbean States (CELAC), an integration bloc in which the island is assuming the pro tempore presidency.
The Havana's Conference Center is the venue until tomorrow of the meeting of officials, which seeks the approval of the CELAC's Action Plan in 2013 and a schedule of events.
Under the Cuban presidency, the body that brings together 33 independent countries of Latin America and the Caribbean has held many sectorial forums, in tune with the priorities set by Havana to promote social issues during its mandate.
The Cuban capital held on February 7 the First Meeting of Ministers of Education of the CELAC, Paramaribo, Suriname, received culture ministers in mid March, while Quito, Ecuador, organized a meeting on environment and development sustainable in April.
In statements to Prensa Latina after concluding in Havana on April 5 an extended Troika meeting of the CELAC, Cuban Foreign Minister Bruno Rodriguez, announced a busy agenda of the block on regional integration.
According to Rodriguez, the Community founded in December 2011 will analyze priorities on energy, finance, environment, family agriculture, science and technology, transport, industrialization, and reduction of inequalities.