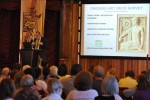 Tours of buildings in Havana and masterly lectures about the presence of Art Deco in other nations are the main proposals in the second day of the world conference on that artistic style.
Tours of cultural institutions as the movie theater Fausto, on the central corner of Prado and Colon in Havana's historical center, as well as the theater America, on the popular street Galiano are among the most significant to get to know the Cuban architectural heritage.
More than 250 delegates from 15 countries that are participating in the meeting will be able to enjoy touring other buildings, as the movie theaters Lutgardita and Arenal, in the western area of the capital.
Lectures about the presence of this artistic expression that flourished in the world during the first decades of the 20th century in countries as New Zealand and Canada are included in the theoretical program for today.
Specialists from Argentina, Brazil, China, the United States, Canada, Australia and Cuba are participating in the conference, which was opened yesterday at Casa de las Americas, one of the emblematic Art Deco buildings in this country.
Exhibitions, a cinema cycle, with films from the '30s to the '50s of the last century and book presentations are included in the program.
Sponsored by the International Coalition of Art Deco Associations and the National Cultural Heritage Council, this conference will conclude on March 21.