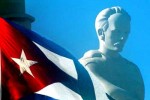 Cuba will celebrate the advent of the 55th anniversary of the Revolution with popular dances, concerts, and other recreational, heritage, patriotic, and historic activities.
Waiting the first day of January, marking the triumph of the Revolution led in 1959 by Fidel Castro, soloists and musical bands will perform in the 169 municipalities of the country.
All the country's concert bands will perform in unison on Dec. 29, to commemorate the New Year and the 55th anniversary of the revolutionary triumph, Silvia Montano, official from the Ministry of Culture, said.
The National Ballet, directed by Alicia Alonso, will stage in this capital the emblematic piece Giselle, in three performances, also marking the 55th anniversary of that company.
Screening of films, humor shows, dances, poetry gatherings, and improvised music will take place in Cuba, to commemorate this national date, amid the updating of the socio-economic process, to make a sustainable and prosperous socialism.