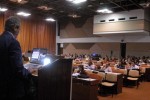 The Ninth International Conference on Health Informatics was inaugurated here today with a conference on the challenges of Cuba in the application of new technologies in medicine.Alfredo Rodriguez, president of the organizing committee, told Prensa Latina that the computerization of the Cuban health system is doing very well compared to global standards.
"In international events and conferences people get amazed at our accomplishments, Cuba is using the latest technology in integration and functionality," said Rodriguez, whose conference sparked debates.
He stated that Cubans are very well positioned in relation to other countries in software programming and training in their use, despite the lack of latest technologies.
According to the expert, the biggest challenge is to achieve and maintain a consistency in these services: Cuba has a network of 53 computerized hospitals, and works in the interconnectedness of all its medical institutions.