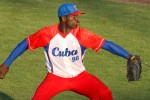 After Monday defeat vs. the Netherlands, Cuba will go for revenge tomorrow from 1:30 pm (local time) in the 14th edition of the World Port Tournament held in Rotterdam.
In their first encounter of this tourney, the Orangemen beat the Caribbean 7×0, thus showing that they have become Cuba's biggest rival in international events.
Cubans' offense has not played the role expected, with average of 200, only 3 runs scored and just 12 hits in 60 appearances. With 1-1 record their pitching works for a 3, 50 ERA with 21 strikeouts and 5 walks in 18. 0  innings.
The triumph of the island over Curaçao on Sunday did not convince many of the fans and specialists who consider the team powerful enough to beat its first adversary with an abundant score.
The truth is that Cuba's win was favored by Ismel Jimenez excellent outing, who supported his teammates' three runs.
So far, Yasmani Tomas is the best batter of the team with 333 ave, followed by Yulieski Gourriel with 286, although Andy Ibañez averages 750 with one game participation.
Lefty Wilber Perez is expected to start tomorrow confrontation vs. the Netherlands.