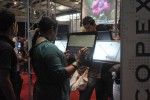 Participants in the 15th Congress of Computer Science in Education called for a greater socialization of knowledge through school networks as part of strategies for cooperation and integration.
In the meeting, held on the sidelines of the 15th International Fair and Convention Informatica 2013, scheduled to end tomorrow at the Convention Center, the delegates shared the view that governments must diversify collaboration plans and establish new bilateral agreements to spread all modalities of knowledge.
They highlighted the need to find ways to achieve a fruitful scientific exchange among study centers in the continent, always seeking Latin American integration.
Participants urged to make the best use of existing tools and possibilities and create new spaces for debate and exchange of experiences.
"We need to construct computer science elements from a new context, so to avoid the supremacy of European positivist approaches over Third World countries' cultural identity," said Venezuelan professor Billi Portillo.