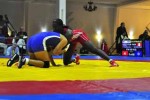 Cuba, in general terms, dominated the Pan American Wrestling Championship in Panama with 11 titles, a silver medal and three bronze medals in competition with 18 countries, Granma newspaper is reporting.
In the female category, Cuba won gold medals in the 72 kg division, through Lisset Hechavarria, and in the 59 kg division thanks to Yaquelín Stornell. The experienced Catherine Videaux won silver in the 63 kg group, and Idurmis Acea along with Yamilka del Valle, won bronze medals in 51 and 55 kg, respectively.
Cuba won four crowns in the mens category through Alejandro Valdes (60), Franklin Marén (66), Yunierki White (74) and Javier Cortina (96).
Yunieski Torreblanca (84) was the only one to lose his ticket to the final (2-0, 1-1, 0-2) against US Phillip Keddy, winning the bronze medal at the end.
The Cuban golden haul was completed with the victories of Greco-Roman wrestlers Ishmael Borrero (60), Alexander Casals (66) Alexei Bell (74), Gilberto Piquet (84) and Yasmani Lugo (96), who remained undefeated in 17 matches to finish second with 50 points, after the United States (57) which attended with its entire mens team.