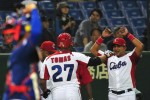 Yasmani Tomás is only 22 and has already become a sensation of the Third World Baseball Classic, as one of the architects of the tremendous recovery of Cuba, as it beat China Taipei 14-0.
A rookie in the Cuban national team in world events, Tomas confessed Prensa Latina that the team spirit and desire to play make him feel ready to face any situation.
This rising star of Havana team "Industriales" said the hit his homerun tonight (his second in the tournament' so far) aided by manager Victor Mesa, who asked him to direct the ball to the left field.
"I hit the ball and it served for scoring three runs and get to 6-0 at the end of the fourth inning, calming us all down," he said.
It was a very important game and it had to be won without hesitation, said Tomas, who added that vying for the position of first-team player with Alexei Bell (both outfielders) is an additional motivation.
Meanwhile, Mesa said that after being defeated by the Netherlands team yesterday, he talked a lot with his players, who later held also a separate meeting.
"Today things went very well; all game factors worked. Now we are waiting for the definition of the next rival. Tomorrow we will go back to training and prepare ourselves with the same enthusiasm and devotion," he said.
The Netherlands team will play against Japan tomorrow, and the one losing that match will then play against Cuba on Monday.