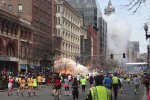 The Cuban Government condemned the terrorist attacks perpetrated yesterday near the finish line of a marathon in the city of Boston, in the United States, which killed three people and wounded another 176, including 17 reported in critical condition.
"Cuba rejects and condemns unequivocally any act of terrorism, wherever it is perpetrated and regardless of its circumstances and motivation," says a statement released here by Josefina Vidal, Head of US Affairs Department of the Cuban Foreign Ministry.
It was reported that a note of condolences to the US people and Government, particularly the victims and their families, was addressed to the US interest Section in Havana by the Cuban people and Government.
According to the latest reports from Boston, an FBI investigation was opened to find the perpetrators of the attacks.