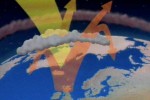 Cuba is working on the progressive elimination of hydrochlorofluorocarbons (HCFCs), a powerful greenhouse gas that is one of the substances most harmful to the atmosphere's protective layer, says an expert on the issue.
Dr. Nelson Espinosa, head of Cuba's Ozone Technical Office (OTOZ), said the country aims to freeze the import of HCFCs this year (present in refrigeration and air conditioning, as solvents in cleaning systems, and foams used in aerosols and fire extinguishers).
Cuba seeks to reduce HCFC consumption 10 percent by 2015, and 35 percent by 2020, although the world expects this to happen by 2040, all established on the basis of agreements signed as part of the Montreal Protocol, Espinosa said.
Among the strategies implemented to achieve such a thing are the improvement of the country's national legislation to control and avoid the use of HCFCs in industrial processes, the development of training courses on best practices in refrigeration and air conditioning, and the reconversion of equipment to HCFC free alternatives.
The country is also updating customs inspectors to detect substances and products at borders, as well as the gradual replacement of equipment for others with environmentally friendly technologies, he said.
He noted that Cuba will implement a demonstration project next year to recover, collect, store, transport, and destroy substances that deplete the ozone layer.
Espinosa told Prensa Latina that this is the first program of its kind in Latin America and the Caribbean.
He added that Cuba has signed the Montreal Protocol, the most successful international treaty in environmental terms and the first one signed to protect the ozone layer through the complete elimination of CFCs in domestic and commercial refrigeration and pharmaceutical and industrial aerosols.
"We must always remember that it is only through the ozone layer that we have life," Espinosa said in the framework of the World Day for the Preservation of the Ozone Layer, taking place on September 16.
Today also marks the 18th anniversary of the OTOZ and the 26th anniversary of the signing of the Montreal Protocol, a notable agreement that sets a precedent for greater international cooperation in facing global environmental problems.