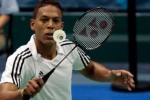 Cuban badminton celebrates the victory obtained by Osleni Guerrero at the 18th Open Tournament of Peru for the first time, when he beat Israeli Misha Zilberman 17-21, 21-13 and 21-11 at the finals.
Guerrero, number 105 in the world ranking and runner-up at the Pan American Games in Guadalajara, Mexico in 2011 lost the first set but used his good shape to win in the remaining sets.
Guerrero got 4,00 points for the world classification and might improve his position for Thursday.
Guerrero opened his path by beating Peruvian Diego Yong and Mexican Lino Muñoz by 2-0, he later beat Peruvian Andres Corpancho 2-0 in the quarterfinals. Finally he beat Guatemalan Kevin Gordon in the semifinals.
Now Guerrero will stay two weeks in Lima, training for the Open in Madrid in May.