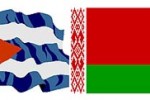 Anatoly Tolkachev highlights historic significance of Bay of Pigs victory.
The president of the Belarus-Cuba Friendship Society, Anatoly Tolkachev, highlighted the historic significance of the victory of Playa Girón.
We will commemorate that event with a political-cultural gala on April 12, stressed Tolkachev furing a working meeting with the Ambassador of Havana, Alfredo Nieves.
Director of Medical Diagnostic Center Minsk, the president of the solidarity association received in that headquarters the head of the Cuban embassy and accopmanied him during a tour through the health facility.
We will work for the strengthening of solidarity ties between the two peoples, assured Tolkachev during the talk with Nieves.
Meanwhile, the diplomat reiterated the gratitude for the solidarity actions of the association and the House of Friendship and Cultural Relations with the People in this Central European nation.
The diplomat informed the president of the Friendship Society about the Third International Meeting of Solidarity with Cuba, which will be held in Havana in October 2014 with the slogan for unity, solidarity and integration.