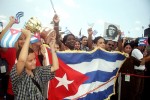 Deputy General Secretary of the Communist Young League (UJC), Joel Pérez, leads the Cuban delegation to the First Preparatory Meeting for the 18th World Festival of Youth and Students, local media reported today.
Participants in the ongoing two-day meeting in South Africa, attended by some 35 youth and student organizations, will present officially Ecuador as host of the festival, to be held in December of 2013, and they will also approve the general guidelines for the event.
Tomorrow, Ecuador will be handed over officially the flag of the World Festival, expected to be attended by more than 16,000 youngsters from all continents.
This is the fourth time a Latin American and Caribbean country hosts the event
The 17th World Festival of Youth and Students was held in South Africa in 2010, attended by more than 15,000 delegates from 126 countries.