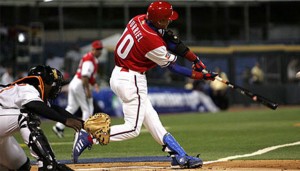 Cuba will take 14 World Classic team members to the international baseball tournament Rotterdam Inter Ports to be held from June 30 to July 7, as told by the Cuban National Baseball Federation Tuesday.
Sancti Spiritus will be represented through Yulieski Gourriel, Eriel Sanchez, Ismel Jimenez, pitching coach Juan de Dios Peña and manager Yovani Aragon.
Second baseman Jose Miguel Fernandez (Matanzas) and first baseman Jose Dariel Abreu (Cienfuegos), two main players in the Cuban team at the World Classic,  lead the team Cuba, with the name Occidentales.
In the list of players, there are also catchers Eriel Sánchez (Sancti Spíritus), Frank Camilo Morejón (Industriales) and Yosvani Peraza (Pinar del Río), shortstops Andy Ibañez (Isla de la Juventud) and Erisbel Arruebarruena (Cienfuegos), third baseman Yulieski Gourriel (Sancti Spíritus) and outfielders Yasmani Tomás (Industriales) and Guillermo Heredia (Matanzas), who defended the colors of Cuba at the 3rd World Baseball Classic
As pitchers, the team will have the names of Ismel Jiménez (Sancti Spíritus), Wilber Pérez (Isla de la Juventud), Odrisamer Despaigne (Industriales) and Raisel Iglesias (Isla de la Juventud), also members of the team representing Cuba at the World Classic. Yovani Aragon will be the manager.
It calls the attention that famous Cuban outfielder Frederick Cepeda (Sancti Spiritus) will not be in this team , as he is recovering from a surgical operation in his left hand, while promising second baseman Johan Moncada (Cienfuegos) was included in it.
Cepeda will be replaced by another player in the next days. It is expected that some of these players will also be members of another baseball team that will compete in a bilateral meet with a team from the US starting July 18, in US national territory.
Holland will compete with 10 former members of the national team participating in the World Classic in March, among them left-handed pitcher Diegomar Markwell, catcher Sebastian Nooij, second baseman Michael Duursma and outfielder Quintin de Cuba.