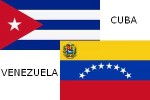 Maduro affirmed that the 51 projects that were approved in the 13th Meeting of the commission formed by Cuba and Venezuela's governments, ratified that both countries walk on Chavez's path.
"It is the path of unity, duty and true integration of Latin American and Caribbean peoples", said the Venezuelan President in the last-night speech during the closure of the meeting, which was followed by Cuban President Raul Castro's speech.
Maduro said that both sides agreed an important amount of joint investment, $2 billion USD, for economic and industrial development, culture, health, education and food production, besides the creation of joint companies to take on the development of vital and strategic areas of those countries' economy.
The Venezuelan President highlighted as a result of mutual cooperation the creation of 6,712 medical posts for the people and 571 integral centers of health, 583 integral rehabilitation centers and 35 high-technology centers.
Due to the bilateral cooperation, 40, 000 Cuban doctors have served in Venezuela and 1,756,261 Venezuelans learned to read and write.
In his speech, President Raul Castro pointed out that Chavez was, as Fidel said, Cuba's best friend. He was an inspiring and restless fighter for the consolidation of the Bolivarian Alliance of the Peoples for our America (ALBA), he said.
Cuban President also said that a remarkable result of the meeting has been the sign of the Memorandum of Agreement which settles an economic agenda for medium and long terms. Ministers of both countries signed 3 agreements on culture, health and education, besides the Memorandum of Agreement and the Final Proceedings of the 13th meeting.
The last two documents were signed by the co-presidents of that work group, the vice president of the Council of Ministers for Territorial Development and the Venezuelan minister for Petroleum and Mining, Rafael Ramirez, and the Cuban minister for Foreign Trade and Foreign Investments, Rodrigo Malmierca.
[nggallery id=68]