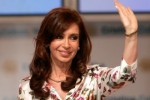 Nearly 24 hours after the surgery that President Cristina Fernandez underwent to drain a hematoma on her brain, her condition remains good.
Today at noon, the hospital management at the Favaloro Foundation where the head of state underwent the surgery, will provide a second official medical report on her condition.
Cristina Fernandez was operated on for a subdural hematoma, without complications, and after the surgical procedure, her spokesman Alfredo Scoccimaro affirmed that her condition was improving and that she was in good spirits.
Deputy President Amado Boudou, who provisionally assumed the Executive role highlighted the stability in the government where, he asserted, there is not a single project but a collective one, a national project led by the president.
The deputy president assured that the transformations in Argentine in the last few decades were possible thanks to one man, Nestor Kirchner, and a woman like Cristina Fernandez, who always cared more about their country than their own lives.
Referring to the leader's health he said we prayed to God, but her strength is what will allow her to return to work quickly.