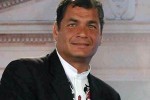 Government plans to benefit Ecuadoran citizens, such as attention to disabled persons and consolidated education will be strengthened in his coming term, promised President Rafael Correa.
During an interview broadcast by the La Voz del Santuario (The Voice of Sanctuary) radio program, Correa assured that the program directed at the disabled will continue as a technical secretariat under the Vice Presidency, given all the experience that has been gained with this effort.
The PAIS Alliance presidential candidate added that the Manuela Espejo mission would continue, through which direct aid is given to the disabled, as well as the Joaquin Gallegos mission which offers financial assistance to the families of the disabled.
Correa also said that the process of school consolidation to achieve an integrated education system would continue, and mentioned that some 5,000 schools have been remodelled and furnished with equipment.
A large number of schools remain dispersed; a total of 19,000 schools means that their infrastructure must be unified in order to allow for better development of the educational process, he added.
As far as university entry is concerned, he pointed out that a billion dollars is being invested currently in higher education.
Correa expressed that it was impossible to allow everyone to study whatever they wish if the country has no need for that particular subject, and emphasized the importance of quotas for each specialty.
Asked about the tax structure for the country, Correa called on citizens to not allow themselves to be fooled by candidates who offer to lower taxes as part of their campaign promises, since Ecuadorian poor do not pay taxes; they are only paid by the rich and the middle class.
The president pointed out that basic foodstuffs are tax-free as well as a number of medicines.
Ecuador has one of the lowest tax rates worldwide, at only 12 percent, he said, pointing out that countries like Chile, Peru and Spain are approaching a rate of 20 percent.
At the end of the interview, Correa recalled that in the six years of his government, the changes have been historic, and promised that in his next term he will continue to work in order to radicalize and consolidate the process which has been called the Citizens Revolution.