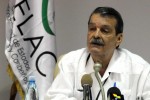 Cuban Deputy Foreign Minister Abelardo Moreno made statements on the cooperation advancements discussed at CELAC meeting.
The 5th meeting of National Coordinators of the Community of Latin American and Caribbean States (CELAC) ended with concrete advances for cooperation with other regional and international cooperation, said Cuban Deputy Foreign Minister Abelardo Moreno.
In remarks to Prensa Latina, Moreno said there was large attendance of representatives of other organizations and institutions, and they all made a commitment to cooperate further in programs being implemented.
According to Moreno, who represented Cuba as pro tempore president of CELAC, also attending the meeting were high level representatives of the Latin American Association of Integration and of the UN Fund for Agricultural Development (IFAD), the Latin American Development bank, the Latin American Energy Organization, and the Economic Commission for Latin America and the Caribbean.
The Cuban diplomat said work intensifies to materialize cooperation with Russia, India and China, as well as with other regional associations like the African Union.
A visit of the Broadened Troika of CELAC (Cuba, Chile, Costa Rica and Haiti) to Moscow, Russia, has been scheduled for late May.
In a press conference at the end of the meeting, Moreno explained that the work of CELAC is oriented to two paths: one internal to promote regional integration in the continent and another to reach consensus among countries in the area on international events.