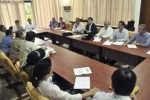 The Armed Forces of Colombia-People's Army (FARC-EP) and the government of that country conclude another round of talks in Havana this Sunday, focused on seeking solutions to the illegal drugs problem.
During the 17th round of talks, the insurgency lashed against the policy developed by the Government to fight the drugs situation, which according to FARC chief negotiator, Ivan Marquez, only fights the weak, and leave aside the key causes of the problem.
Marquez said at the beginning of the talks that FARC's positions in relation to the issue have been historically clear, and stressed that this problem is used as an excuse for the intervention of foreign powers in the internal conflict.
FARC chief negotiator also questioned the attempts to eliminate coca plantations, and aid that the guerrilla presented a series of proposals to solve the problem once and for all.
In this round of talks, FARC also reiterated its willingness to agree to a truce with the Government for the end of the year.
Marquez added that if the Government does not agree with the possibility of a cease-fire, at least they will try the signing of a normalization agreement to reduce the effects of the war.
The guerrilla chief negotiator stated that is just a measure to force the parties in conflict to act in line with the so-called criteria of civilizations, which include a series of important regulations, such as the international humanitarian right.
It is expected that both parties present a joint communiqué today.
They reached a first agreement on the agricultural issue in late May, and a second accord about the future political participation of the insurgency was signed last November.