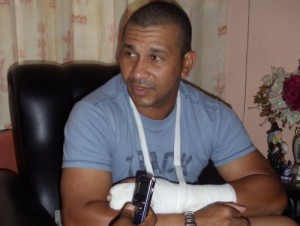 One more time injuries get between Frederich Cepeda Cruz and playoffs. The most recent of them: a luxation of the left hand's third finger tendon got him out of the 52nd Baseball National Season.
"I was trying to attack the ball and then I did what we call a "half swing" over a high-level throw, and my tendon luxated, or what it's the same, it moved out of place causing a lot of pain when I tried to close my hand.
In a first report a surgical intervention was mentioned
"As soon as a surgeon assisted me in Havana's Frank Pais hospital, he told me that my injury could be fixed or operated, and that a process of rehabilitation would follow which includes one month with a cast on my hand, another for the physical treatment, and a third to start playing baseball. I even had the admission planned but doctors said it was my decision to make, so I went for another option: to have my arm immobilized for 15 or 20 days and to rehabilitate in the Sports Medicine Institute. If this doesn't work, then a surgery is required".
Don't you think you risk a lot with your choice?
"All decisions have risks; whether I stay like this or have a surgery I'm taking chances. These are common injuries for those who practice sports. The first thing one thinks is that what you do may end so I'm going for this way first and then we will see".
Did you also get your leg injured during the season?
"Yes, I did. I was hit by a foul on my left leg which caused a hematoma and nearly turned into lymphangitis, but I continued playing; I've always said that if I can move even just one finger, I'll play. That's what I like and it's part of my life".
After an excellent qualification stage you did not start well in playoffs. Why?
"Baseball is just that. I ended up among the first in many departments mainly because of the accumulation of all games. The last 15 encounters I did not produce as expected. Even if I kept on preparing myself the way I always do, my beginning in the postseason was not good. I did not help the team; I found many runners on scoring position and I did not bring them in"
Do you think you got exhausted? Why didn't you take a break?
"I don't think is fatigue. I prepare myself everyday to play. Batting is a lot about coordination: this has been an intense year in regard to our national sport; we've played a lot and we've had different kinds of training. I'm not making any excuses; I didn't finish well, which is unusual because I always have great endings and postseasons.
It must be hard for you to be watching the game "from the bench"…
"Being on the bench is the hardest thing, not only for the injury but also because I feel powerless. I have no other choice but to be seated, watching and supporting the team in these last games, and on the other hand I felt awful about not being able to help them in the encounters I played. I can only be hopeful of me being on the field once again".