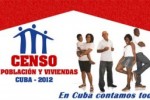 The Cuban population totals 11,167,325, according to the final results from the 2012 Population and Housing Census, released today by national media.
According to statistics revealed on Saturday, Sept. 21 at the Council of Ministers, headed by President Raul Castro, the total is some 10,418 people less than the number reported in the 2002 census.
Regarding the prevalence of either sex in Cuban society, women are a slight majority, with 50.1 percent, compared to men, with 49.9 percent.
The trend towards an aging population was also confirmed, with 18.3 percent of the population over the age of 60, while only 17.2 percent are under the age of 14.
Marino Murillo, Vice President of the Ministers Council, also stressed that the composition of the population by skin color confirms mixed race tendencies.
Some 3,885,900 housing units were surveyed, with 3,882,424 of them being regular households and the rest corresponding to workplaces where someone is in permanent residence, and communities such as retirement homes or orphanages, said Murrillo.
Raul Castro called attention to the results, and called for close attention to them, as they are a fundamental tool for the work of cadres from the local to the national level.