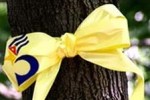 Canadian organizations in British Columbia have joined a yellow-ribbon campaign to demand freedom for the Cuban Five, who have been held in U.S. prisons for the last 15 years.
Activist Tamara Hansen reported today that numerous solidarity groups have answered an appeal launched in Cuba by one of the Five, Rene Gonzalez, -released after serving his sentence- to demand the release of Gerardo Hernandez, Ramon Labañino, Antonio Guerrero, and Fernando Gonzalez.
Inspired by the lyrics of Russell Brown and Irwin Levine's song "Tie a Yellow Ribbon Round the Old Oak Tree," Rene called on Cubans to display yellow ribbons as a way of calling attention to the 15th anniversary of his arrest and that of his four compatriots, and to bring attention to the case.
The Five were detained in Miami on September 12, 1998, and handed down harsh sentences for preventing actions as those that have caused more than 1,400 victims in Cuba in the last 53 years.
Rene was released on October 7, 2011, after serving his sentence, and returned to his country in May after giving up his U.S. citizenship to end an additional sentence of three years' supervised release.
According to Hansen, from Wednesday to Sunday, the cities of Vancouver, Nanaimo, Kamloops and Bowen Island will be the settings of events to demand the immediate and unconditional release of the Cuban Five.
The program includes a rally in front of the U.S. consulate, cultural activities and the screening of a documentary, The Cuban Wives, by Italian filmmaker Alberto Antonio Dandolo.
The documentary outlines the case of the relatives of the Cuba Five and their international struggle to denounce the unjust way that the case has been handled by the U.S. legal system.
Hansen said the activities were being sponsored by the Socialist Club of Kamploops, the International Committee of Human Rights of the Association of University Teachers of the Island of Vancouver, and the Vancouver Free the Cuban 5 Committee.
The events are part of an international campaign from September 5 to October 6 to call for the release of the Cuban Five.
The Five were tried in Miami amid a hostile media environment aimed at manipulating public opinion, persuading the jury and ensuring their conviction and harsh sentencing.