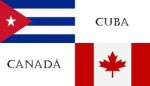 The 12th Che Guevara Solidarity Brigade, made up of Canadians, is arriving this Thursday in Cuba to carry out a full schedule of activities to demonstrate support for Cuba.
The visitors, who will stay in the country until middle of May, will hold meetings with relatives of the five Cuban anti-terrorists who are serving sentences in the United States.
Gerardo Hernandez, Ramon Labañino, Antonio Guerrero and Fernando Gonzalez are serving sentences of up to two life sentences plus 15 years for having monitored the actions of violent groups attacking Cuba from Miami.
Rene Gonzalez, who was arrested with his partners in 1998, is currently serving an additional three-year sentence of supervised parole after being released in 2011.
The Canadians will take part in a number of productive activities and will hold meetings with several sectors of society.
Last year, the Brigade carried out similar activities in several provinces of Cuba.