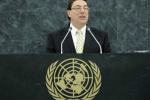 Cuban Foreign Minister Bruno Rodriguez will give a lecture today at the Mexican Ministry of Foreign Affairs (SRE), as part of his official visit that begun yesterday to this country.
According to a release from that agency, the ministry monitors the commitment made on January 27 in Santiago de Chile by the presidents of Mexico, Enrique Peña Nieto, and Cuba's Raul Castro, to strengthen relations between the two countries.
Rodriguez's visit includes a meeting with his Mexican peer, Jose Antonio Meade, to review the issues of the bilateral, regional, and multilateral agenda.
During the stay of the Cuban foreign minister here, several agreements on economic, cooperation and legal spheres will be signed.
Rodriguez arrived in Mexico on Wednesday, for a two-day visit, after participating at the UN General Assembly, in which 188 states demanded the lifting of the economic, commercial, and financial blockade imposed by the United States to Cuba for more than 50 years.